I jumped into a
LEARNZ fieldtrip
this morning to check out their new
Backchannel feature.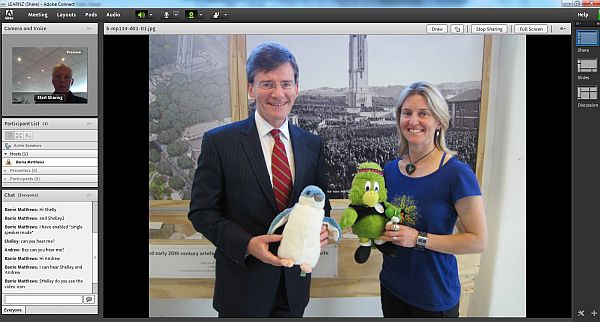 Adobe Connect
is being used to supplement the audio conferences from out in the field. This platform provides a space for visuals to be shared - such as pictures from the participating schools, from out in the field, and of the
LEARNZ host
& guest expert.
It also provides the opportunity for schools to experience more interactivity and opportunity to connect with each other through the chat feature. The audio conference itself is participated in by only one or two schools and is broadcast live out to other schools. This is a great way to enhance the LEARNZ virtual field trip in being able to bridge the 'virtual' with the 'reality' for students, being able to extend with a way to ask side questions, give contributions, feedback & additional resources like visuals & links to supporting materials. Yes the LEARNZ website can also do some of this, but the Adobe room brings this into the synchronous environment of the field trip.
I was really impressed with the quality of the audio, particularly as it was coming from a cellphone by the side of a river in Turangi! A feed is made from the audio conference direct into
Mixlr
where it is streamed live.
Mixlr was a find for me so signed up as i was listening. I can see how this might be really useful to some of our work in the VLN Primary School. We will be exploring how we can support collaborative groups of schools in participating together in LEARNZ activities, more to come on that later in the year.
There are still
lots of great fieldtrips
planned for the reminder of 2014 -
get onboard with your students and participate!