Yesterday i had the privilege of collaborating with a room full of passionate language learning advocates from community groups, schools and supporting organisations. Our main focus was to discuss the challenges and opportunities for schools in developing and sustaining language programmes in schools and how we can provide support and guidance for schools in the ALLiS initiative.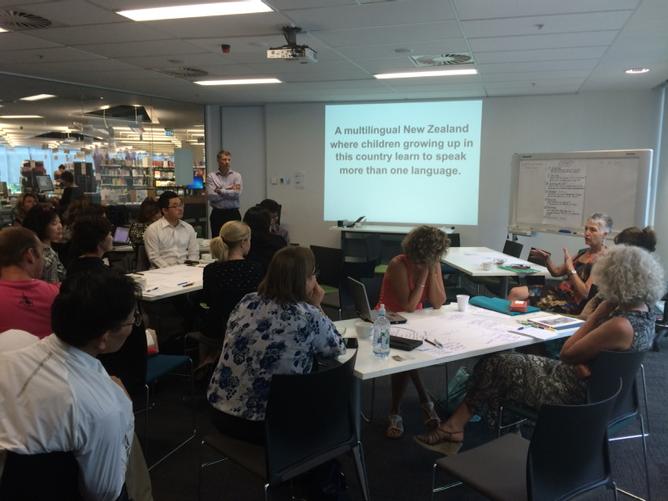 There were many details discussed of how we can collaborate to support successful and sustainable programmes but what has been clear in this meeting and previous ones is
that a national language policy & strategic plan for learning languages is critical to co-ordinate, drive and sustain this work.
It was really interesting to meet Susan Warren and hear about the work
of COMET
educational trust and in particular the development of a Languages Strategy for Auckland. It makes a strong case for developing Auckland (
and that should read - New Zealand)
as a multi-lingual community and also a strong case for a National Languages policy. Here are some of the points that resonated with me - you can
read the whole document here
and there is still an opportunity to
submit a response here
within the week.
"

Multilingualism is central to a diverse city: it allows us to value ourselves, build community, build tolerance, and live peacefully and prosperously.

Currently, many Aucklanders miss out on the cognitive advantages of multilingualism. As a community we miss out on the potential of younger language learners because we fail to take advantage of the best windows for language learning and the most effective years for language maintenance. Auckland's migrants, especially our older migrants, could receive much better support for their aspirations to learn communicative English. As a community

we fail to grasp the cultural and aesthetic benefits of multilingualism, and many Aucklanders cannot garner the educational attainment that crosses language boundaries and unifies knowledge in varied domains.

One of the more obvious impacts of the absence of a languages policy in New Zealand is seen in education.

Evidence shows that quality bilingual or immersion instruction in children's first or heritage language brings measurable gains in literacy achievement in the target language and also in English

[1]

.

However requests to the Ministry of Education for tailored materials or professional development for bilingual classes are met with an explanation that there is no policy to enable provision for learning through languages other than English, te reo Māori and NZ Sign Language.

Most New Zealanders (93 per cent) agree it is valuable to learn another language

[2]

. Language skills and cultural sensitivity are now required for successful participation and engagement locally, nationally and globally in all spheres of activity. Auckland is well placed to harness its language potential.

In the past, it has been possible to "get by" in English only. For our young people to thrive in the future, they will need more options and more experience as language learners. Because most of the world is multilingual this need will be felt even more acutely as today's young Aucklanders spread their wings globally. Most English-dominant countries today require their young people to have another language; all of New Zealand's associates in ASEAN require kids to learn another language from a young age. New Zealand identifies strongly with the ethics of team membership: being a team player in the 21st century will mean being multilingual."
[1]
Asia New Zealand,
http://asianz.org.nz/newsroom/media-releases/2014/perceptions-asia-2013
[2]
Ministry of Education (2008).
Teaching and learning for bilingual Pasifika students in New Zealand
.